The AbilityOne Line of Products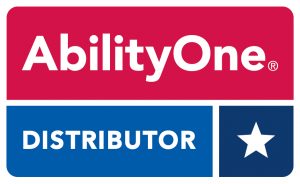 Pacific Office Solutions is proud to be an authorized distributor of AbilityOne office products.  The AbilityOne Program generates jobs for over 47,000 Americans who are blind or otherwise severely disabled through the manufacturing of products and the provision of services required by Federal customers.  The AbilityOne Program is also a "required source of supply" for our federal government customers per FAR 8.7.
Make a Difference Through Your Support of the Severely Disabled and Blind
You can support the AbilityOne program simply by purchasing the products they make. At Pacific we make this easy. We carry the full line of AbilityOne products and have them all loaded on our website.
Most are available with free next day delivery.  To shop our AbilityOne product offering click here and use the guest login. Then simply enter "abilityone" in the search bar.
We can also send you a hard-copy AbilityOne catalog or a login to our ordering site.  AbilityOne items will all have an AbilityOne icon next to them, making them easy to find and order.