4 Do's and 1 Don't to Saving Money on Office Supplies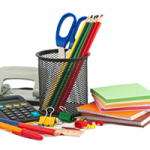 DO's:
Forgo the Brand Name: For such everyday office supplies as binder clips, notes pads, pens, etc.  you can recognize a significant savings by purchasing an office supply dealer's house brand.  Typically theses items are priced at least 25 percent less than their comparable name brands.
Ink and Toner 2 and 3 Packs: Companies spend more on ink and toner than all other office supplies combined.  It is often difficult to find deals or sales on these products. If your company goes through a lot of the same types of toner, you can recognize a 10-15 percent savings simply by purchasing in multi-packs or high yield cartridges.
Manufacturer Monthly Sales and Rebates: Every month manufacturers offer promotions and rebates on a variety of office supply items.  Offers often include such freebees as free office supplies, VISA cash cards, and restaurant or fuel gift cards or even free printers. Check out www.biggestbook.com "offers and rebates." Why not receive free products or gift cards for items you are purchasing anyway through the course of the month?  The offers run on the calendar month.
Bulk Packs: Manufacturers are constantly adding new bulk packs to their product offerings.  The item unit price is usually 20 or 30 percent lower when purchased in bulk.  Almost all common office supply items are now sold in bulk packs.
DON'T Think That You are Being the Office Hero by Purchasing the Inexpensive Remanufactured Cartridge
We talked about ink and toner in "Do" item 2.  Often companies think they are saving their company a lot of money by purchasing a remanufactured toner or refilled ink cartridge.  You are not really saving money if the product explodes in your printer or breaks after spewing out a few pages.  Do your homework.  There are many high quality remanufactured toners on the market with excellent warranties.  Typically, though, the prices of these better remanufactured cartridges is close to the price of the OEM's.